museumsakademie / Galerie Helen Adkins 1996-2002
The museumsakademie berlin (ma) / Galerie Helen Adkins was founded in 1996 in the former Jewish quarter of Berlin. Close to Alexanderplatz, this prime location was at the heart of a then unique concentration of art galleries and project spaces. Access to the gallery was through the third backyard of a building still heavily scarred from World War II. Located on the second floor, the generous 300m2 industrial space had originally been built in the 1920s for a printing business. Attractively refurbished and professionally lit, the loft space was well equipped for exhibitions and events.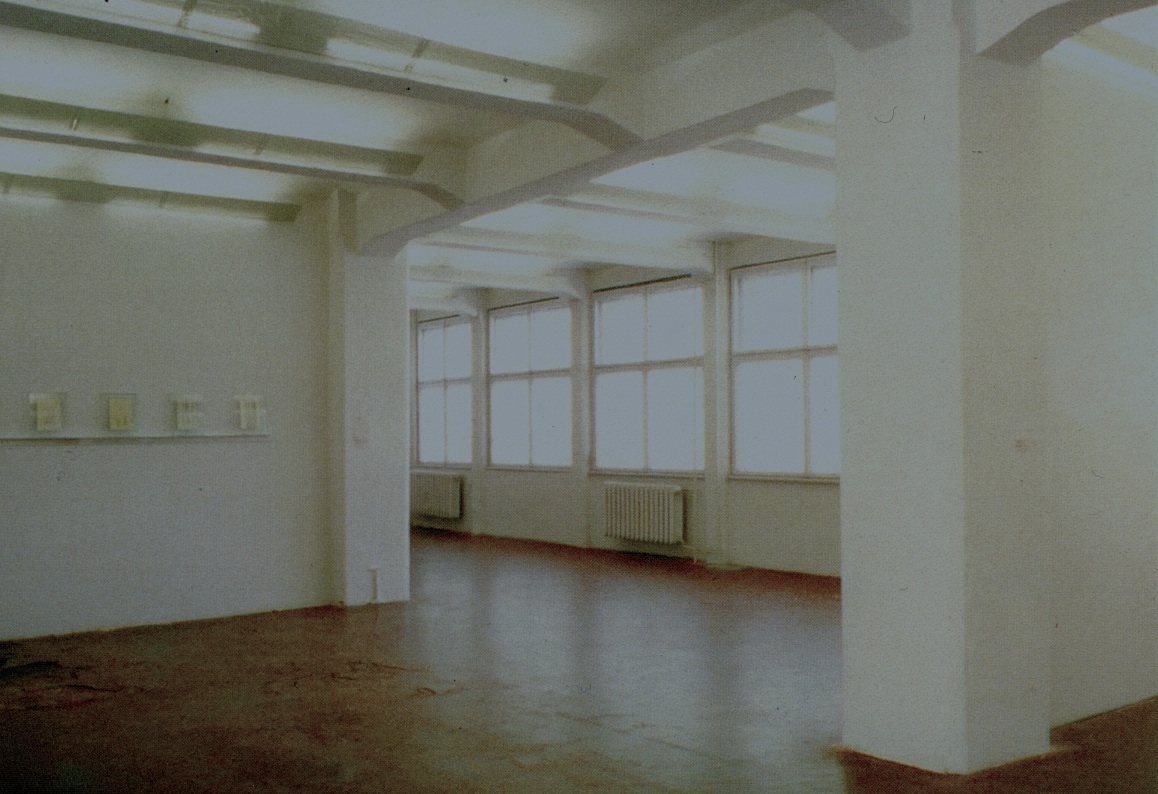 The aim of the museumsakademie was to set up a commercial gallery in combination with a school for curatorship in order to question the role and representation of contemporary art in society, and compare practice with claims.
In 1996, training courses for curators were available only at De Appel in Amsterdam, Le Magasin in Grenoble, and Bard College in New York State.
Whereas the commercial gallery was a successful enterprise during its six years of existence, the school for curatorship was unfortunately never realized. Helen Adkins felt it essential that the courses be accessible to applicants with a low budget but failed to obtain sufficient exterior financing. The combination between a commercial gallery and a school on a not-for-profit basis, which characterized the concept, was not viable. However, the gallery worked successfully with an internship program, thereby effectively fulfilling one segment of its educational profile.
Galerie Helen Adkins had a booth at Art Forum Berlin 2001.
In 2002, following a substantial rent increase related to the restitution of the building, the gallery was forced to close. In six years, Galerie Helen Adkins staged over 50 exhibitions, together with a varied program of readings, book and film presentations, and private-public cultural partnerships. The Schwarzenberg association, of which Helen Adkins was a founding member, still runs the premises. Today the former space of the museumsakademie is occupied by the Anne Frank Zentrum.
Artists represented:
Fritz Balthaus (*1965 Oberhausen); Alvar Beyer (*1970 Weimar); Daniele Buetti (*1955 Zurich); Antje Dorn (*1964 Aachen); Ernst F. Drewes (*1962 Detmold); Asa Elzén (*1972 Visby, Sweden); Torsten Haake-Brandt (*1958 Kiel); Sebastian Kusenberg (*1958 Hamburg); Gernot Lindner (*1960 Beikheim); Lorcan O'Byrne (*1961 Dublin); p.t.t.red (Hs Winkler *1955 Rott a. Inn / Stefan Micheel *1955 Bochum); Karin Rosenberg (1963 Heidelberg); Beate Rothensee (1952 Essen); Miguel Rothschild (*1963 Buenos Aires); Emma Rushton & Derek Tyman (*1965 Pickering, *1962 Manchester); John Schuetz (*1944 Hartford, Ct), Malte Spohr (*1958 Hamburg); Barbara Steppe (*1956 Karlsruhe); Thorsten Streichardt (*1967 Harsewinkel); Barbara Trautmann (*1966 Oberhausen).
museumsakademie publications 1996-2002
Torsten Haake-Brandt, GEUSTERMOR (Auto-Repeat), Berlin 2002
Gernot Lindner. Relating Photographs (cooperation with Galerie F. Heitsch, Munich), Berlin 2000
Daniel Ben-Hur. Materie beleben. Hebräisches und lateinisches Alphabet, Berlin 1998
Gernot Lindner. Relating Pieces, Berlin 1998
Karin Rosenberg. Fenster-Installationen (cooperation with empty rooms e.V., Berlin), Berlin 1998
Lorcan O'Byrne. Flowers, friends, and family, Berlin 1998
Fritz Balthaus (cooperation with Kunstverein Freiburg et al.), Ostfildern 1997
Lionel Guibout, Giganten in der Stadt, (cooperation with STIPA, Montreuil), Berlin/Paris/Athens 1997
Antje Dorn, Quit (cooperation with Wiens Verlag, Berlin), Berlin 1997
Lorcan O'Byrne, People I Know, Berlin 1997
Daniele Buetti, Instant World, (cooperation with espai lucas, Valencia), Valencia 1997
home